Event Details
Gain the knowledge and accreditation needed to manage domestic retrofit projects in accordance with BSI PAS 2035 with training delivered by The Retrofit Academy
The Green Register is pleased to be working with The Retrofit Academy as a 'bootcamp partner' for their Retrofit Coordinator training: The Level 5 Diploma in Domestic Retrofit Coordination & Risk Management.
Upcoming Bootcamp dates
Essentials Online February: 10 Feb 22 / 24 Feb 22 / 10 Mar 22 / 24 Mar 22 - 09.30 - 12.30
Essentials Online March: 10 Mar 22 / 24 Mar 22 / 7 Apr 22 / 28 Apr 22 - 13.30 - 16.30
Plus more dates coming soon!
About the Course
Gain the knowledge and accreditation needed to manage domestic retrofit projects in accordance with BSI PAS 2035, and benefit from access to the exclusive eLearning and professional development programme.
The Level 5 Diploma has been developed by The Retrofit Academy and the Open College Network West Midlands, in consultation with PAS 2035 author Dr Peter Rickaby and other retrofit specialists.
The Retrofit Academy are the only approved provider of Retrofit Coordinator accreditation in the UK and are responsible for maintaining and updating the course in consultation with the retrofit sector's official quality mark, Trustmark.
What does this course cover?
This Level 5 Diploma provides a comprehensive overview of key domestic retrofit processes and best practices. Applicants will learn the essential knowledge and skills needed to perform the role of Retrofit Coordinator.
This includes:
Learning the skills and knowledge required for the design, assessment, and project management of domestic refurbishment projects.
Understanding the technical factors that influence the energy efficiency and heat loss of domestic buildings.
Learning how to reduce the instances of common defects and failures that can hinder retrofit projects.
How do I apply for the Level 5 Diploma?
You can apply by completing The Retrofit Academy's referral form.
Enquiries:
Please get in touch with us for more details: mail@greenregister.org.uk
The Level 5 Diploma - Learning Packages
The Retrofit Academy CIC offers a variety of ways to study for the Level 5 Diploma in Retrofit Coordination & Risk Management, now conveniently packaged in a bundle to offer you added support into practice, so you can choose a learning experience right for you.
What do you get?
When you enrol on a course with The Academy, you now get access to a variety of supporting assets critical to your success, such as:
Membership to The Retrofit Academy's Centre of Excellence upon joining the course, with 12-months access beyond graduation (up to a maximum of two years post-enrolment).
A free copy of PAS 2035 and PAS 2030 (2019), essential reading for any Retrofit Coordinator.
A license to use The Retrofit Academy PAS 2035 Compliance Software, providing you with a copper-bottomed solution to ensure project compliance.
Access to the Retrofit Academy Knowledge Base, including lots of useful technical guides and videos to support you into practice.
Retrofit Weekly delivered straight to your inbox featuring the latest sector news.
Access to The Retrofit Academy CPD Hub for ongoing learning post-accreditation.
Invitation to the monthly PAS Club, hosted by Dr Peter Rickaby, to answer your questions around PAS 2035.
Regular updates to the PAS FAQs resource, the definitive guide to PAS 2035-compliance.
Access to Retrobook, the exclusive networking platform to connect Retrofit Coordinators with the industry, once fully accredited with a Scheme.
Ongoing access to The Retrofit Academy CIC's Technical Team.
How can you study for the diploma?
The Retrofit Academy's most popular package is the new Essentials Online learning programme (previously known as 'Blended Learning'). Alongside the above benefits, this package offers you self-guided eLearning with the additional support of an expert-led two-day Retrofit Coordinator Bootcamp, delivered via Zoom. This virtual Bootcamps are a total of 12 hours, delivered through four sessions (three hours each) over a period of six weeks.
The Pro-Track package (previously known as 'eLearning') offers existing construction and design professionals the chance to qualify via self-guided online learning and assessment alone. It still offers the training and support benefits outlined above; however, with this study method you won't have access to a Bootcamp. Pro-Track is an intense study method and is entirely online, so you need to hold a minimum Level 4 qualification or above in a built environment subject to be eligible. You will be asked to provide evidence of your qualifications and experience to access this route.
Attendance will make you eligible for Green Register membership
Costs:
Essentials Online: £2,000 + VAT
Pro-Track: £1,700 + VAT
SPECIAL OFFERS
£50 cashback on all course fees for Green Register members (we will provide a £50 refund once your booking has been confirmed by The Retrofit Academy)
Eligibility Requirements
The Level 5 Diploma in Retrofit Coordination and Risk Management is a regulated qualification and as such, has some specific eligibility requirements. Click the link to the referral form or contact us to find out more.
How do I apply for the Level 5 Diploma?
You can apply by completing The Retrofit Academy's referral form.
Enquiries:
Please get in touch with us for more details, including a prospectus for the training: mail@greenregister.org.uk

This training is delivered by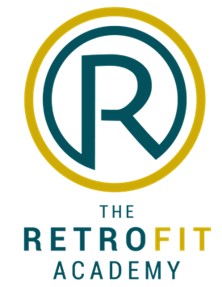 When
March 10th, 2022 13:30 through 16:30
Event terms and conditions
| | |
| --- | --- |
| Enable terms and Conditions Acceptance | |
| | |
| --- | --- |
| Checkbox Position | Top profile |
| | |
| --- | --- |
| Checkbox text | I accept the Terms & Conditions |
| | |
| --- | --- |
| Terms and Conditions File | |
| | |
| --- | --- |
| Link Label | Terms & Conditions |
| | |
| --- | --- |
| Introduction | Please read and accept the terms &conditions and our Data Policy. |
---
This event was posted in